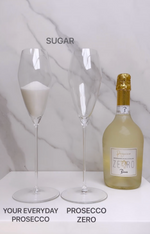 If you're concerned about added sugar...
Average Prosecco vs Prosecco Zero
Did you know that the typical bottle of Prosecco has over 25 grams of sugar?
This is why we launched Prosecco Zero, a unique wine with only 2.8 grams per bottle.
Shop Prosecco
5

Obsessed with this Prosecco! it's the perfect drink to keep me on track with my health goals while still enjoying myself !

Hannah D

5

I've been Keto for 4 years now and this prosecco is the only thing I drink bc of the low sugar

Jonathon P.

5

LOVE! I didn't even know it had low sugar when I bought this for my girls trip in the hamptons. We were blown away by the quality taste and the low sugar perk. Best of both worlds :)

Leah F.
The Skinny on ZERO
The spirits industry isn't known for being especially health-conscious. However, EDM Zero Beverages wants to change that. Its first product Prosecco Zero is already a hit.
Prosecco stands out for being a sweet wine made with a variety of white grapes called Glera, from the Italian regions of Veneto and Friuli-Venice-Giulia....